Available 24 / 7 – Contact Us Now:
---
Please Do Not Hesitate to Contact Us – We are Available 24/7
Phone : 0428 611 452   |   Office: 07 4161 1452
Burnett Regional Funeral Services – "Where Caring Comes First"
After travelling from Queanbeyan in New South Wales, there was only one day to finalize arrangements for my sister's funeral. Shirley was very helpful in helping us select a coffin, she confirmed all the arrangements for the following day – flowers, order of service. The funeral went very smoothly with chairs and shade provided. We would highly recommend Burnett Regional Funeral Services.
We were treated with respect and sympathy. We felt very relaxed in the knowledge that we were given time to make appropriate decisions regarding Stan's funeral arrangements.
Voss Family
The experience was brilliant, high standard, exactly how we wanted it. We loved the care and compassion and the time put in to make it a lovely viewing and service. There was no faults at all. Very well done as we wanted.
Goronzy Family
My family and I can only highly endorse Burnett Regional Funeral Services. In our time of need, they provided guidance which gave us peace of mind. They were very helpful and willing to personalize the ceremony according to our wishes, which were met with consideration and sensitivity.
Tauchmann Family
Our experience with Fred and Shirley is tops. In 2010-11, my Mother passed away during the floods and Fred pulled out all stops to have Mum safely buried. Just before Christmas 2016, our Father passed away, and again, Fred and Shirley were there again to organize Dad's Funeral, which was around the Christmas holiday period. All costs of the funeral were discussed upfront. Thanks Fred and Shirley for an excellent service.
Rod
I am so glad I chose everything to do with Michael's funeral service with you. You made such a difficult time in our lives really quite easy with suggestions and your expertise in this field of work. Under the sad circumstances, Michael's service was beautifully and very professionally delivered. Couldn't have asked for more caring and patient people to work with.
We found our experience with you a feeling of everything under control with your efficiency and streamlining, yet somber but displaying a very personal touch on such an emotional occasion easing one's anxiety. Thank you for such a great service.
The way everything was carried out at Mum's funeral was perfect. No-one else could have done any better. I know Mum would have loved it all, right down to the two doves which I know you went to great lengths to find for Dad's funeral. Thanks from the bottom of my heart. Just keep doing what you are doing.
Regards and many thanks, Pam and family.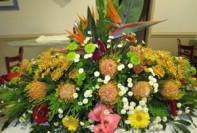 When someone you love dies, quite often you feel totally unprepared for the important decisions and arrangements that must be made.  We, at Burnett Regional Funeral Services, are on call 24 hours a day, 7 days a week to assist you in your time of need.  When death occurs, we suggest you contact us immediately and we will begin to take care of all the details involved.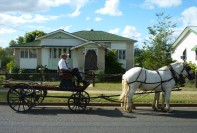 At Burnett Funerals we pride ourselves in adding a personalized touch to all our funeral ceremonies. We can arrange small, intimate and private services through to high profile, public services. From hand painted coffins, themed services, pictorial memories to personalized floral arrangements. Our professional staff are compassionate, caring, experienced professionals who care your family needs.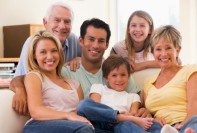 There are many decisions which need to be made, and a lot of information which is required when someone dies. Arranging a prepaid funeral means most of the decisions and information are already recorded, taking both the financial and emotional burden away from family and friends at such a difficult time. Burnett Regional Funeral Services are dedicated to providing the Burnett Region and surrounding areas with a range of services to help discuss and plan your funeral needs.